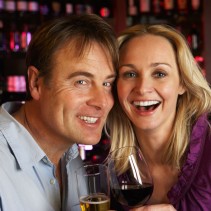 SPEED DATING TORONTO / ETOBICOKE
TIME:  ALL  SPEED DATING EVENTS  :  7:30 - 9:30   P.M.
To Be Announced,  Ages 29 - 44:
New Locations to Be Announced. Stay tuned for 2017!
To Be Anounced,   Ages 40 & Up :
New Locations to Be Announced. Stay tuned for 2017!
SPEED DATING TORONTO / GTA
Speed dating Toronto events are for mature professionals looking for a new fun and exciting way to meet other compatible individuals. If you are looking to meet quality people in your age range, sign up for one of our events and give it a try.In case we do not get enough sign-ups for the date you've selected, the event date will move to the following week.
How It Works:
Meet 10-15 singles of the opposite sex per night. Providing you with 8 - 10 minute dates to get to know each individual. We will provide you with suggested questions for getting to know your dates.
If we create a Match for you, we will email you the results within one week from the event.>
TIME: SPEED DATING : 7:30pm - 9:30pm
MIX N MINGLE: 9:30 - 10: 30 pm
Join us after the event for our Mix n Mingle. Hang out a bit longer with the singles from the event. Appetizers will be provided along with a CASH Bar.